By John Shaw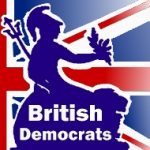 Britain is falling apart and despite many other countries in the world turning Nationalist, there appears to be no hope for our people and our country.
All we nationalists can do, as we carry on with our own lives, is have pride in ourselves and belief in the cause. That is needed now more than ever.
We know that having been proved right about so much is a bitter consolation. But our time will come, and probably sooner than many think!
We are proud to be "the few" and look forward to being "the many", just as has happened in Hungary and increasingly elsewhere.
Just make sure that in 2019, YOU CARRY THE CARD!