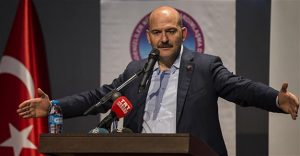 by Admin
Turkey are now threatening to send 15,000 migrants a month to Europe in retaliation for the ban by Germany and The Netherlands on Turkish ministers canvasing in their respective countries on what is a local referendum in Turkey.
Germany and The Netherlands should consider removing the citizenship granted to the 4 million Turkish nationals with duel citizenship living there who are extremely unlikely to integrate as they are maintaining a true focus on their Turkish Islamic roots.
Turkey should also be removed from the Customs Union agreement it has with Europe and, for every migrant they send, remigrate one of the 5 million Turks in continental Europe together with every economic migrant who enters from Turkey.
We as members of NATO do not wish to be dragged into our commitment to protect Turkey in the event of any attack on them and should exclude Turkey from membership in view of the country's volatility towards Europe and the forging of closer links with Russia.
The full Ankara News report can be found here