By Hogarth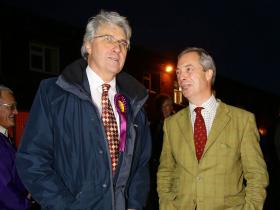 Labour increase their share of the vote by 7.3% but a poor showing for Farage and his politically-correct fan-club in the Oldham by-election!  No surprise there.  What is surprising is the response of Farage:
"Mr Farage said Oldham's Asian population had voted for Labour in large numbers, even though, he claimed some did not speak English but were signed up for postal votes.
He claimed to have seen ballot boxes in which "99% of the votes were for Labour"
and "this does not seem to be consistent with modern liberal democracy"."
What did Farage expect?  This is the reality of multiculturalism.  It is how ethnic elements from the Indian sub continent, which includes Pakistan, vote.
They sensibly form a solid bloc along ethnic and religious lines, usually according to the requirements of their community leaders.  That is why multiculturalism will never work.  It is why democracy can only exist amongst a people and not amongst many peoples.  When applied in the latter instance, it is performed as a battle of conflicting cultures for supremacy and self-interest.
In these circumstances, the existence amongst the host population of a plethora of parties plays into the hands of the newcomers, because it weakens and divides the voice of the indigenous population.
In many constituencies, where they have not yet gained majority status, the non indigenous ethnic population provides the balancing factor.  That balancing factor, during a General Election, is sufficient to determine the outcome and the Government, all other things being equal.  This condition will become more marked in future, as the alien population rises both naturally and as a consequence of further immigration.
Farage and his 'multiculti' collaborators want to stop immigration from Eastern Europe.  They favour 'traditional' immigration from Africa/Asia/West Indes – about which they never complain – and they have claimed that European immigration discriminates against our 'traditional immigrants' from the developing world.
Now that Farage and his cowardly fan-club have experienced the consequences of their multicultural policies in Oldham, will they alter their political perspective with regard to immigration and multiculturalism?  Will they focus their spotlight on the costs and consequences of 'developing world' immigration?
Not a hope:  ostriches, multicultural Quislings and collaborators do not change character, especially when they have been backed by the BBC and former backers of the multi-cultural, pro-EU Labour Party, such as the owner of the Express.
Impartial analysts of the political scene will have realised, years ago, that Ukip is a licenced safety-valve party, lacking in any ideology, devoid of any loyalty towards its nation (as defined by the indigenous people who comprise the nation, rather than the geographical boundaries in which the nation is located) and employed to neutralise patriotic sentiment and resources.
What is the purpose of wishing to preserve the integrity of the nation state, as Farage and his politically-correct fan-club claim they wish to do, when there will be no nation within the state within 50 years?  By that time, it will not matter if Britain is governed from Westminster or Brussels, for the simple reason that those running Westminster will no longer be of British descent.