by John Bean
The fight to defend the right of those living in Britain to be active supporters of the religion of Islam, as long as they reject violence, is led by two contrasting thought groups. The less significant at the present time are the anti-Zionists, which includes basic anti-Semites as well as those who recognise the significance of international Jewish power in the formation and existence of the state of Israel. Whether you, as readers, supports or opposes this view is at present insignificant.
The most important of those defending and promoting the rise of 'peaceful' Islam in Britain and Europe are the spokespersons for the liberal-left establishment and its one-world devotion, led by the BBC, The Guardian and The Times. There is not room here to give a case by case example of this, but it is all so clear in the promotion of a thoroughly nice lady as a producer of the finest of cakes and the winner of the 2015-16 Great British Bake-off, Nadiya Hussain.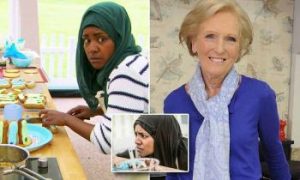 Born to a Bangladeshi family in Luton, and married to Abdal Husssain in a forced marriage which she hated at the time, look at the promotion given to this charming lady since she had more success with cake baking than our King Alfred. The globalists chief multicultural mouthpiece, the BBC has made her a reporter for its One Show.  The Times newspaper has made her a columnist and she has signed book public details with Penguin Random House.
I was told by a person (male) who has recently retired from the BBC that if it was not for her religious dress they would have liked to get her on their high audience rating Country File.
My informant said that when they chose Anita Rani as one of their now regular presenters, they thought she was a Moslem. She was in fact born in Bradford of Punjabi Sikh descent. I will grant I may be prejudiced but I feel that she would be better used reporting on city life as opposed to the countryside, where she could well be reading a script as opposed to participating in rural life.
Deny Our Rights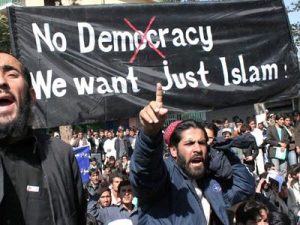 To return to Islamism and the threat this so-called 'peaceful' religion now poses – and we stress that we are just not talking about violent Jihadists – a most clear and determined attack on our civilisation. Whether it is from their Koran, or in lengthy explanations by an  Immam in a Muslim area of a once British city or an English small town mosque, its adherents make it clear they hate freedom, democracy, women's rights, Christianity and Judaism. They deny the rights of anyone including fellow Muslims, who does not share their views. They recognise no law except sharia. All this must be noted, acted upon accordingly by halting further Islamist immigration and not evaded.
In an article in the Daily Telegraph (30.7.16) headed "Islamism is an Attack on our Civilisation",  Charles Moore wrote:
"In a way almost unimaginable only 20 years ago Islamists kill and terrify. They can also, through mass immigration of Muslims, destabilise us, even though the great majority of those Muslims have no desire to kill their hosts. This is well understood by the anti-Western President Erdogan of Turkey. Who has now, thanks to Angela Merkel's immigration policy, been given control of much of the migrant flow into Europe?  The effects of the Islamist presence in the West – attacks on free speech, radicalisation in schools, forcing more women to cover their faces, let alone jihadist violence – is wholly bad. It is a civilisational question to work out how to deal with it. We need a firmer idea of what our Western civilisation is. The murder of Father Hamel  (the French  priest) should surely be a reminder."
With a return to pride in our own country and in our own history it is likely that many Moslems would prefer to be living in traditional lands. The Trinidadian writer V.S.Naipaul (a non-Moslem)  made this point in his book  back in the 1990's  'Beyond Belief'.  He wrote:
"The believers in Islam honour Islam alone, they have nothing to return to. It requires the convert to accept that his land is of no religious or historical importance; its relics were of no account; only the sands of Arabia are sacred."
*              *          *
NEW ARRANGEMENT FOR EARLIER BOOKS
In an amicable arrangement with Ostara Publications, John  Bean has arranged that his two earlier political books are now available direct from him at johnatjbapr@aol.com. These are: Blood in the Square, paper-back version, published December 2014 @ £6.95,  and Many Shades of Black, republished by Ostara November 2013 @ £8.95. Blood in the Square is a short novel based on the author's own experiences inside the British Nationalist movements of the sixties. This is used to portray the lives of the fictional characters, including some of those who were strongly, and sometimes violently, opposed to the nationalists. Many Shades of Black could  be described as John Bean's political autobiography up to 1999. From 1950 for the next forty years he led a very active political life, including working with Mosley, A.K.Chesterton and Andrew Fountaine. Any criticism he makes of these are only constructive. The same could particularly be said of his long-term friend John Tyndall. At the time of this 250pp book's first publication the 'anti-fascist' Searchlight magazine said: "Bean wrote with wit and hate. He was also one of the best street speakers of the British far-Right after Mosley."