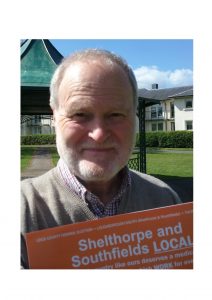 Kevan Stafford
British Democrat Candidate
Loughborough South division County Council election, Leicestershire,
4th May 2017
The Loughborough South division County Council election is being contested by the British Democrats on 4 May this year. The electoral division is located in Loughborough, Leicestershire, and is the area where I was brought up from age three to the age of eleven. I now live in the adjoining Loughborough East division, situated just across the road from Loughborough South.
We are a genuinely democratic and sensible centrist party that reflects the views of many, possibly the majority, of British people. We also stand for the ethical and wholesome concepts of conservation, global diversity, sustainability and social cohesion. The British Democrats are not yet at the forefront of British politics but we are striving to move the party forward towards the breakthrough that we believe is due and deserved!  To this end, we entered the Loughborough (South) County Council election in order to keep the party in the focus of the electorate and to gauge how our policies are being received in local elections.
A small team of party members commenced delivering our A4 size warm-up leaflet to the 5,500 homes in the electoral area, or County Council division, in late February and completed the task by early March. We started delivering the main A3 size leaflet at the end of March and finished by early April, a few days before postal ballots were due to arrive on doormats on 13 April.
We have started delivering a third A5 size leaflet, which will take about 2 weeks, to act as a reminder to electors to actually go out and vote, if they have not already sent off postal votes. About a third of voters are issued with postal votes at their request. The other parties standing in this division are Labour, Conservatives, Lib Dems, UKIP and the Green Party. At this point in time only a Conservative leaflet has been seen, although labour may well be posting out election letters or leaflets directly to known supporters identified by canvassing. With almost three weeks to polling day on 4th May, there is still time for other parties to issue last minute election messages.
The County Council division is large, comprising two adjoining Borough Council wards joined together. The printing of such a large number of leaflets has not been without significant cost and any financial help you can provide will be very gratefully received. Our Leafleters are all volunteers, willing to put in hours of slogging, to deliver a total of sixteen and a half thousand leaflets before polling day. Please help us to help you and your families in the fight we wage to protect and preserve our country and our people. Thank you.
DONATE TO THE BRITISH DEMOCRATS
♦   ♦   ♦