by John Shaw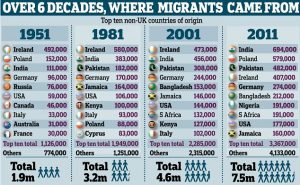 No one is saying that every immigrant that came to Britain from 1960 – 1980 (Immigrant Generation 1) has behaved badly. However, there were many social, economic and law & order problems with many.
The situation with the immigrants 1980 – 2000 (Immigrant Generation 2), importantly the offspring of Generation 1, have refused to adapt British values, indeed showing social and religious hostility to those values. There were many riots and acts of hatred between the different types.
The offspring of Immigrant Generation 2, Immigrant Generation 3 (20000 – 2018), have totally rejected British values and have in fact increased the hatred to include Christianity and other religions like Hinduism and Sikhism.
On top of this many (not all) have turned to crime, particularly drug dealing, prostitution and people smuggling. They are now killing one another at an ever increasing rate around the country particularly in London.
The British people were never consulted about the massive import of these people and things are so bad that many are either moving to the country side (White Flight) or really giving up and going to live abroad.
People need to make a protest at all this, reject the old parties and join us today.