John Bean investigates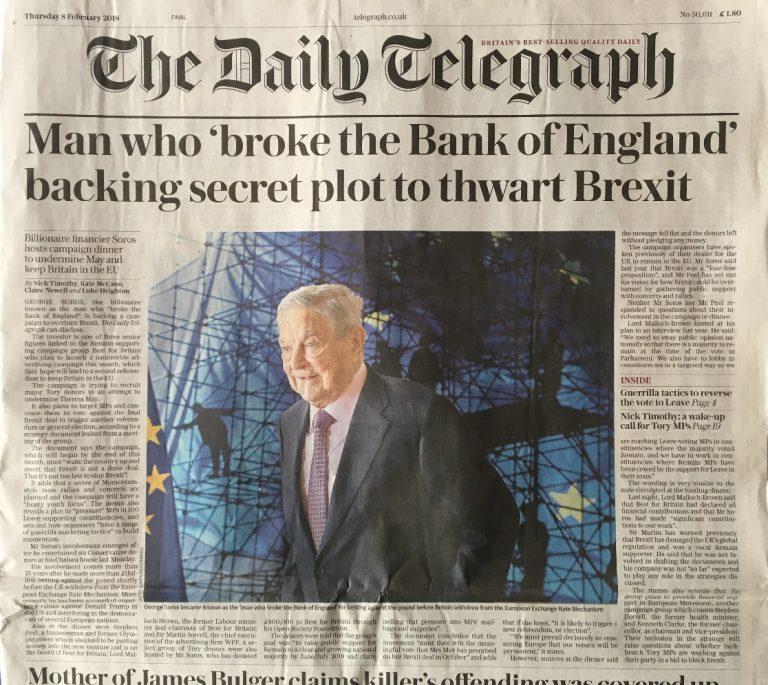 George Sorus is the billionaire who earned the title of the man 'who broke the Bank of England'. This was when in 1992 his bets against the pound forced the UK to withdraw from the European Exchange Mechanism. Since then he has donated more than $32 billion to the Open Society Foundation (OSF), which he founded in 1979.
He transformed the organisation into the world's second largest philanthropic fund.
As we all know, you don't get something for nothing. He has since been accused by many governments around the world of meddling in their internal affairs. For example, author Frank Furdi claims globalist activists working for Sorus bragged about toppling governments at a private lunch. More direct he has been accused of using OSF to
orchestrate an ultra-liberal crusade in Hungary. He has also faced strong criticism
from Poland's Government who accused him of wiping out "any semblance of checks and balances". In Romania the leader of the ruling Social Democrat Party said Mr Sorus and 'the foundations and structures that he has funded since 1990 have financed evil' in the country.
Since the Hungarian born (but now a US citizen) Sorus made himself a persona non grata to governments across Eastern Europe and been accused of having a hand in the fall of several governments, he has now shifted his activities to Britain and Brexit .
This is being done under the banner of 'Best for Britain', which under his chairmanship has started a well-financed campaign to reverse the 52-48 support for Britain to leave the EU and return in full support. To back it he has the support of  the free-sheet London Evening Standard, edited by the former Tory Chancellor, George Osborne, still suffering from sour grapes. The owner of this anti-Brexit propaganda sheet is the former Russian Evgery Lebedev (now a UK citizen) whose father was in the KGB.
Criticism of Sorus within the ranks of 'Best for Britain' by some of his supporters is not allowed. Others have denounced these critics as being anti-Jewish (because of Sorus's origins).
Board members of Best for Britain include Gina Miller, the British Guiana-born liberal-left lawyer, and Sir Martin Sorrell, the chief executive of the world's largest advertising agency, WPP. Let us look at some of the other board members, and chums of Sorus.
Stephen Peel, who worked his way up to executive director at Goldman Sachs, had previously donated £25,000 to Best for Britain when he attended  the dinner at George Sorus's home when OSF was set up in October 2016.  Another board member is the cross-bench peer in the House of Lords, Lord Mark Malloch-Brown, the former UN deputy secretary general. At the above dinner meeting he unveiled a marketing blitz which would be put in place and that would heavily target young people and assert to the British public that Brexit was not a done deal, They already had a 'range of guerrilla marketing tactics in preparation' to seize attention.
Turning to the House of Commons itself,  an MPs' committee chaired by Tory MP Anna Soubry has been formed as the All-Party Parliamentary Group  (APPG) to support campaigns to overturn Brexit. It is no surprise to see that it has been given £21,000 by Best of Britain.  APPG is co-chaired by Labour's Chuka Umunna.