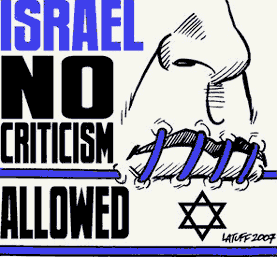 By Kevan Stafford
Israel and the wider Jewish diaspora should not be above honest criticism where appropriate. All too often however, the response to criticism, no matter how accurate, is a howl of indignation and a counter accusation of "anti-Semitism", or unjustified hatred.
It is apparent that the Jewish community in general is talented and successful, and some criticism could well be motivated by envy of that success. But serious critics maintain that success has been achieved by aggressive deviousness and a cultural proclivity for networking amongst the Jewish community which European cultures do not exhibit to anything like the same extent. We tend to value independence rather than acting in support of each other, and this may not be in our best interests when faced with a competitor with a highly developed sense of cohesiveness.
Rightly or wrongly it has been claimed that Jews were instrumental in fomenting the 1917 Russian Revolution, the First World War of 1914-18 and the Second World War of 1939-45 and in planning the destruction of the twin towers in New York in 2002. If there is truth in these allegations then it would be appropriate to help disseminate the truth to the general public.
Most mainstream political parties in Britain and elsewhere have been persuaded to incorporate a "Friends of Israel" section in order to promote the interests of Israel, presumably in exchange for help with funding. With the hegemony that the Jewish community exerts over the media, politics and especially finance in Britain and throughout Western societies, it would be useful to the indigenous people of these lands to have at least one political party in each country adopting a "Critics of Israel" section, to critically analyse the actions and statements of Israel and the Jewish community. Truthful criticism in the interests of greater understanding does not constitute anti-Semitism, nor hatred, nor abuse nor prejudice.
The blog "The Enemy Within" is an extensive source of analysis of Zionism
http://traitor666.blogspot.co.uk/2006/07/iraq.html