by Admin
 Schulz refers incident to French authorities 'given the seriousness and criminal implications' 
Says 'further evidence is needed to clarify' what happened in fracas between Woolfe and Hookem in Strasbourg earlier this month 
Woolfe quit Ukip after fracas with Hookem left him hospitalised this month
UKIP Investigation says it is unlikely Hookem pushed or assaulted Woolfe
Police have been brought in to investigate the altercation between two Ukip MEPs which plunged the party into crisis earlier this month.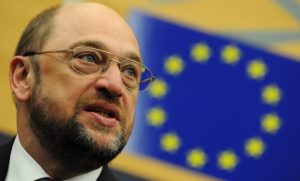 European Parliament president Martin Schulz said he had referred the incident involving Mike Hookem and Steven Woolfe, who subsequently quit Ukip, to the French authorities 'given the seriousness of the reported facts and their possible criminal implications'.
Mr Woolfe was left hospitalised after the fracas in the Strasbourg European Parliament and claimed Mr Hookem punched him after being confronted over claims he was considering defecting to the Tories.
Today Mr Schulz told MEPs that an investigation by the Parliament revealed that 'further evidence is needed to clarify this matter'.
Mr Schulz told MEPs this morning: 'Following those events I referred the matter to the code of conduct committee, which examined the case very carefully and has advised me to refer the matter to the public prosecutor.
'Medical examinations carried out after Mr Woolfe's admission to hospital suggest that when he collapsed that followed a blow to the head – that stems from a medical report.
'I have taken note of Mr Woolfe's allegations and there is a clear suspicion that he was subjected to an act of violence, which is why we have referred the matter to prosecutors.
'I have no doubt about Mr Woolfe's allegations personally.'
Shortly after Mr Schulz's statement to MEPs, UKIP published a report of an internal investigation they carried out into the incident.
The investigation found the MEP who was "painted… as a victim" in a stand up row with one of his colleagues instigated the clash and meant for it to be a physical altercation and it was "unlikely" MEP Mike Hookem pushed Woolfe through a door, which was originally thought to be what caused Woolfe to suffer two seizures and be treated in hospital for bleeding on the brain.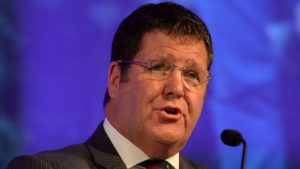 It said that when Woolfe invited Hookem outside to deal with a quarrel "man to man", Woolfe meant it as a "physical altercation".  It detailed how Woolfe exited the main meeting room where MEPs were gathered in Strasbourg through one door while while Hookem went into the same room through another.
The two were then alone in a larger meeting room, but as no other MEPs were present, UKIP's report said it could "offer no determination on what the facts might be" on what happened next.  The inquiry added it was "unlikely" Hookem was in a position to push Woolfe through the door but that it could not make a "definitive determination" given the lack of witnesses.
Woolfe will not face any repercussions, UKIP's Chairman Paul Oakden said, as he has left UKIP.  Hookem escaped suspension but will have a "formal reprimand" placed on his internal record.
It will be interesting to see which version of events the French Police will believe.
UKIP has been in turmoil for many months and it is looking increasingly unlikely, because of the feuding factions within its NEC,  that it will be able to function as a credible political party for the foreseeable future.