by DAZ
When she was Home Secretary, Theresa May campaigned with the 'REMAINERS' in the lead up to the EU referendum.
REMAINER, David Cameron did the RIGHT thing and stood down when he lost the EU Referendum.
REMAINER, Theresa May did the WRONG thing when she stood for and was elected leader of the Conservative Party knowing full well she was not best placed to lead the Party and Government in Brexit negotiations.
REMAINER, Theresa May went on to compound the error of her ways and did the WRONG thing again when she decided to call a general election, for reasons best known to herself, since she already had a comfortable majority.
REMAINER Theresa May then went on to do the WRONG thing, for a third time, by refusing to stand down after leading her Party into an unnecessary and disastrous general election where she lost her comfortable majority and put the ability of her party to govern and the future of Brexit at risk.
It is also strange that the Conservative Party allowed her to remain as their leader following such a humiliating defeat.  They do not normally take hostages, so perhaps they are keeping her in place so they have a 'fall guy' for when Brexit fails or is watered down to an extent where it will fail to meet the expectations of the British people who voted to LEAVE the EU.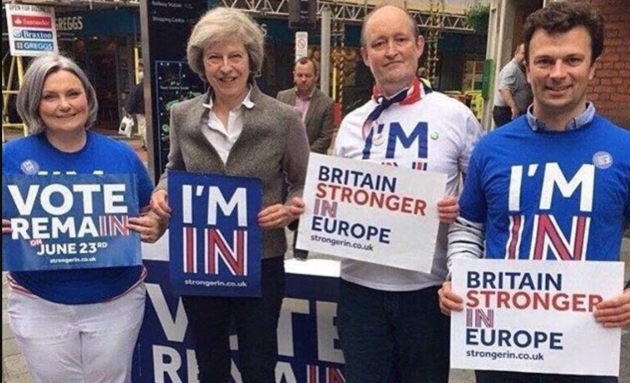 The British Democrats say we need someone with credibility, less prone to making WRONG decisions and with a full commitment to Brexit,  to lead the Government and the Brexit negotiations.   TERESA MAY MUST GO NOW!