by DAZ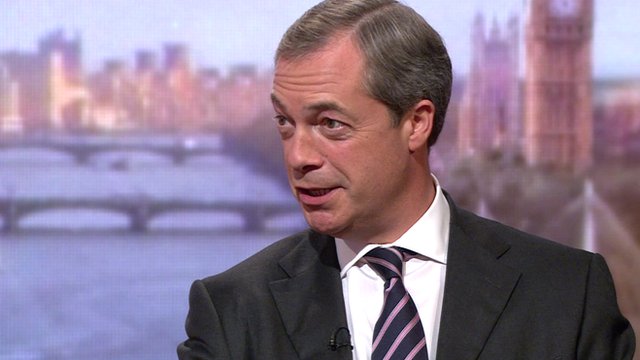 It was reported today that Nigel Farage believes Theresa May has "a stronger hand than eurosceptics" amid concern among Brexiteers that the Prime Minister will "sell out" the referendum result this week in response to the EU offer of a better deal if Britain compromises.
This comes as Theresa May prepares to face down the vocal Brexiteers in her divided cabinet during the decisive Chequers summit this Friday.
Speaking on BBC's Sunday Politics Brexiteer Nigel Farage has raised alarm about an imminent EU stitch-up over Brexit, after leaders in Brussels promised to hand the UK a better deal if the British compromise.  He went on to say he believed Mrs May was getting ready to "betray and sell out" the Brexit vote.
He warned Brexit-backing politicians that the Prime Minister had gradually gained "a stronger hand than the eurosceptics" and added that he doubted whether leading pro-Brexit voices in the cabinet, including David Davis, Michael Gove and Boris Johnson, had "the guts" to stand up to Mrs May.
The former Ukip leader said: "To be honest with you, it's perfectly clear that Brexit voters voted for us to leave the single market, to take back control of our borders and not to be governed by a foreign court.  "The Prime Minister is clearly not intending to deliver on these things. At least not in the foreseeable future."
Nigel Farage said he believes Theresa May is angling for a 'soft Brexit' suggesting a late addition to a statement issued by the EU after the summit is believed to have been a move to appease ministers and prepare the UK for a soft Brexit.
Farage went on to say I think she has a stronger hand of cards than the eurosceptics.  "What the genuine eurosceptics in the cabinet have to decide is whether to resign or force her out as the leader. "Many Brexiteers think that since her Lancaster House speech, she has let us down shockingly. "But do the Brexiteers have the guts to act?"
Farage added that Mrs May was getting ready to "betray and sell out" the Brexit vote. At the European Council summit this week, European leaders told Mrs May that they would compromise on their stubborn Brexit stance – but on the condition that the British Prime Minister confronts Eurosceptics.
Speaking prior to the start of the summit, European Commission president Jean-Claude Juncker warned: "We cannot go on living with a split cabinet. "They have to say what they want and we will respond to that.
In reports this morning, Mrs May has warned "Brexit bully" critics she will fight on if they try and oust her.