" Trail of the Viking Finger" is dedicated to the retention of 'Englishness', the liberal-left will call it 'racist'. In fact it is not overtly political and could be a useful present at £7.99. It is available at ALL main bookshops in the UK and if not currently in stock they will obtain it in 2-3 days. If you want a signed copy contact me at my email – johnatjbapr@aol.com –  and I can arrange for the signed copy to be posted to you at a total cost of £8.99 (which includes the postage by recorded delivery).
Attached in this report are two extracts which give a good guide to the book's content and style and also shows reader interest to ladies as well as gents.
Reader's Letter
Inspiration for 'Viking Saga' Revealed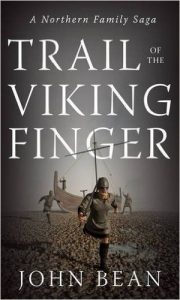 On a recent holiday I took with me a copy of John Bean's "Trail of the Viking Finger", which I had bought almost five months ago but had delayed reading. Once started I was entranced and had to be persuaded by my wife to put it down so we could go out for meals and enjoy evening entertainment.
 I finished this unusual novel over three sunny days and confess to shedding a tear several times.
Knowing John for some years I could detect a good deal of biographical content (probably missed by many readers). These included the locations of Surrey, Bermondsey, East Yorkshire, North Yorkshire and Tyneside, and also India. The bent Viking fingers and the odd outburst of raging temper were also familiar. And so was the sentimental attachment to kith and kin.
Well done John. You have exercised your mind and mine to good effect. I wish you every success with this fascinating book.
 Ian Patterson