The number of migrants coming to Britain from the EU was at least 800,000 last year, according to a new study – more than triple the official estimate.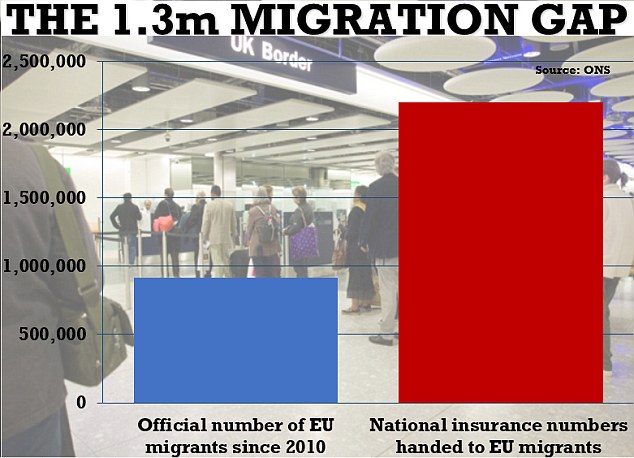 Around 1.3million more NI numbers have been given out to EU citizens since 2010 than are accounted for in official statistics.
The new figures were released following a revised analysis of the gulf between official figures for arrivals from the EU and how many National Insurance numbers had been issued.  The fresh estimate was arrived at by combining the long term (more than a year) and short term (less than a year) migration figures.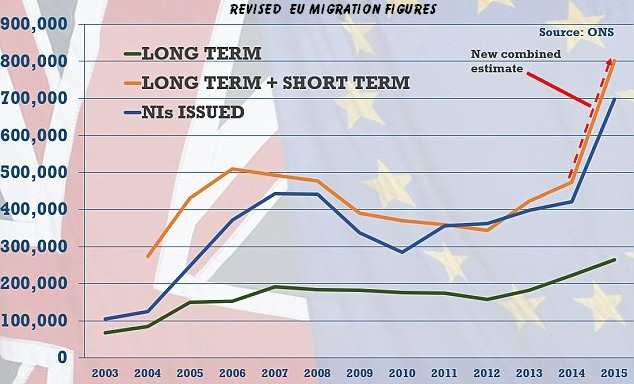 The revised estimate produced by the experts using the new method suggested the total could have been as high as 800,000 in 2015. The official level was previously stated as 260,000.
It was also reported any remaining gap with the NI figures could potentially be 'explained by looking at the number of visitors that come to the UK for work or business for less than one month'.
Over a five year period 1.2 million additional people came here, got a job and a NI number and lived here for a considerable time even if some of them have now departed.
Speaking at the launch of the Leave campaign's road campaign Boris Johnson accused the pro-EU camp of being 'dishonest' about the level of EU migration to Britain.  He said politicians had been driven to 'dishonesty' because they did not want to admit they cannot control immigration while Britain is inside the EU.
Regardless of how the figures are produced it will be impossible for the Government (Conservative Party) to meet their manifesto pledge to limit migration to 100,000 while Britain remains a member of the EU.
Vote to leave on June 23rd and help the Government honour its immigration pledge.