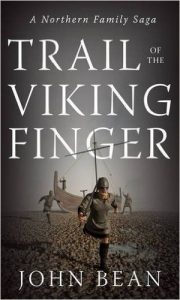 No doubt because my historic novel " Trail of the Viking Finger" is dedicated to the retention of 'Englishness', the liberal-left will call it 'racist'. In fact it is not overtly political and could be a useful Christmas present at £7.99. It is available at ALL main bookshops in the UK and if not currently in stock they will obtain it in 2-3 days. If you want a signed copy contact me at my email – johnatjbapr@aol.com –  and we can arrange for the signed copy to be posted to you at a total cost of £10 (which includes the postage by recorded delivery).
Attached in this report are two extracts which give a good guide to the book's content and style and also shows reader interest to ladies as well as gents.
From all sales up to the end of this year I will donate £.1.50 per copy to the upkeep of this British Democrats' website.
If you purchase your copy at a bookshop, send me a copy of your receipt and I will pass the £1.50 direct to the Brit Dems.
Sorry, but Kindle copies and their like pay too little (about £1.10 to me) to include in the above offer.