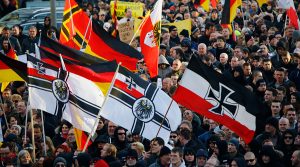 It would appear from recent reports, that the European Folk are starting the fight back against the unprecedented levels of immigration, recently being permitted by European leaders.
Right wing organisations across Europe have joined forces to form a new network and coalition called Festung Europa, or 'Fortress Europe'.
At a meeting on 23rd January 2016 in Prague, German representatives of PEGIDA met organisations from nine other countries to sign a joint declaration (see below) opposing political Islam and the Islamisation of Europe, and to explore ways of ensuring that incidents like the mass sex assaults in Cologne on New Year's Eve are never repeated.
PEGIDA was founded in Germany in October 2014.  The acronym PEGIDA can be translated from German as the Patriotic Europeans Against the Islamisation of the West. PEGIDA now operates in various countries and the UK group was relaunched in January 2015.
Criticising Angela Merkel's open-door 'refugee' policy, leading PEGIDA activist Tatijana Festerling said it should serve as a warning to the rest of Europe. She continued:
"The goal of the network is international understanding. For only by the profound solidarity among peoples will it be possible for us to cooperatively ward off the population replacement and the Islamisation of Europe that goes with it. Submission is out of the question."
The Fortress Europe coalition will hold mass demonstrations across Europe on 6th February 2016. They will include a 'Silent Walk' protest in Birmingham organised by PEGIDA UK.
The Prague Declaration – Saturday 23rd January 2016
Conscious of the fact that the thousand-year history of Western Civilisation could soon come to an end through the Islamic conquest of Europe, and conscious of the fact that the political elites have betrayed us, we, the representatives of the various nations of Europe, declare as follows:
We shall not surrender Europe to our enemies. We are prepared to stand and oppose political Islam, extreme Islamic regimes and their European collaborators.
We are prepared to risk our freedom, our property, our occupations and careers and perhaps also our lives as generations have done before us. It is our obligation to future generations.
We refuse to submit to a European central government. The regulations of the global elites have brought us poverty, unemployment, corruption, chaos and moral collapse. It is time this came to an end.
We respect the sovereignty of European nations and the rights of people in all European countries to govern their affairs as they see fit.
We hold it to be a sacred right of the citizens of all European countries to protect their borders and to decide which migrants they accept and which they do not accept into their countries.
We call attention to our common European roots, traditions and values, as well as to the historical alliances of our nations.
We are resolved to protect Europe, freedom of speech and all other civil liberties, as well as our common way of life together.
We shall manifest this resolve by our participation in a joint demonstration, which will take place on 6th February 2016 in many European countries.
Further reading:
http://gatesofvienna.net/2016/01/tatjana-festerling-in-dresden-the-prague-declaration/
https://www.rt.com/news/330075-pegida-coalition-mass-protest/