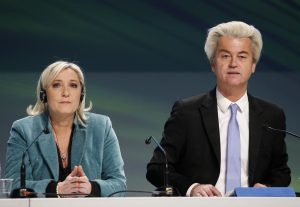 The first congress of the European Nations and Freedom Group within the European Parliament was held in Milan on the 28th and 29th January 2016.  The 36-member parliamentary group is the smallest in the European Parliament, but includes some parties gaining strength in the polls in their home countries
Leader of the French, Front National, Marine Le Pen, speaking at the end of the first meeting said
"European structures that were poorly constructed are crumbling everywhere under current immigration and monetary policies".
"European citizens have nothing to fear as Europe's nationalist parties are ready to step in and clean up when European structures fail". 
Le Pen went on to say that the parties represented at the press conference in Milan were  part of the future  and expressed a conviction that they won't always be relegated to the opposition.
She also mentioned that a decision by Italian officials to cover ancient statues depicting nude figures in deference to the visiting Iranian President Hassan Rouhani was ridiculous.
Populist leaders from host Italy, the Netherlands and Austria expressed their common view that Europe's borders must be closed to mass migration from the Middle East and Africa because of the threat of terrorism and the strain on budgets.  They also stated that sovereignty over such policies must be restored to nations.
Leaders of nationalist parties from the United Kingdom, Belgium, Poland, Romania, and the Czech Republic also attended the Milan conference.