John Bean says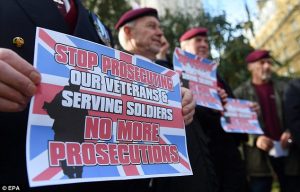 The Human Rights Law has been used by the leftist Iraq Historic Allegations Team (IHAT) to inform 280 British armed forces veterans that they are under investigation. The two leading ambulance-chasing law firms behind the activities which are bringing them large sums of taxpayers money are  'Leigh Day' and 'Public Interest Lawyers'.
Even The Guardian says Leigh Day's co-founder Martin Day is a self-confessed ' bolshie bastard' .
Public Interest Lawyers of Birmingham is run by Phil Shiner, who the Daily Mail accused of 'milking the legal aid system to earn millions from the public purse'.
It appears that both of these 'dodgy lawyers' are on the lookout for a jihadist with a grievance who they can take under their wing to discredit the Army – leaving the British taxpayer to pick up the bill. To put some round figures on their earnings the Al-Sweady inquiry into alleged mistreatment of Iraqis at the Battle of Danny Boy, near Basra, in May 2004, took five years to complete this farce at a cost of £31 million. The dodgy two above are thought to have picked up £5 million.
Their connections with the new-Left of the Labour Party, i.e the Corbynistas, were revealed in the Daily Telegraph of  23rd January 2016. it said:
'It is believed that Emily Thornberry, the new shadow defence secretary, has attended two Leigh Day Christmas parties and accepted almost £50,000 in donations-in-kind from them over a two-year period. The Labour Party received almost £20,000 in 'staff costs' from the firm in 2012.'
This month it is revealed that insurance companies also see that there is money to be earned from the legal problems facing our armed forces officers. Military commanders are being sold insurance to protect them against legal action after the hundreds of claims from Iraq and Afghanistan.
I am sure that British Democrats will take to heart the advice offered by Lord West, a former First Sea Lord with experience in the Falklands War.
"It is a total nonsense that one can use human rights legislation to drag military leaders through the courts for decisions made in war.
"In combat men kill and are killed on a regular basis fighting for their countries. Civilian norms cannot possibly apply, and yet there is a growing tendency, particularly in the European courts, to make judgments as if events on the battlefield were taking place in the halcyon days of peace."
Further reading: