by Admin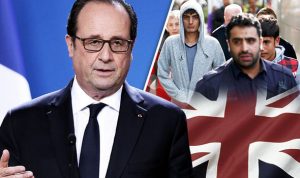 The Prime Minister Theresa May has told Francois Hollande that "We've done our bit" and Britain will not be taking any more child migrants from Calais following his request for Britain to accept a further 1,500 children from the Jungle camp in Calais.
The French President voiced his displeasure with the UK's efforts to help tackle the squalid settlement in a telephone call to Downing Street.
British officials have insisted the UK is not prepared to welcome any more unaccompanied youngsters above already existing commitments.
Charlie Elphicke, Tory MP for Dover, urged Mrs May to resist pressure from France. "Britain is already looking after over 4,500 unaccompanied children. We've paid millions of pounds for walls and fences at Calais.
"We've more than done our bit," he said.  "Theresa May is right to stand her ground.  "What we need now is more investment in the roads and border controls at Dover to make sure that we are properly prepared for Brexit."
David Davies, Tory MP for Monmouth, said: "Theresa May is absolutely right to say 'non' to President Hollande. It is great to have a prime minister who is prepared to stand up for British interests.
"These migrants are not our responsibility. The French government should offer them asylum if they are entitled to it or deport them if they are not".