Leicestershire Correspondent reports
The campaign to leave the EU starts now!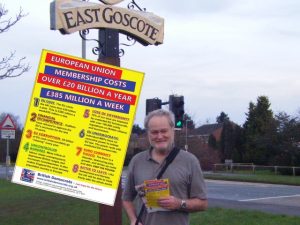 It's time to move into heavy campaigning against UK membership of the EU in light of the pending referendum. Leicestershire activists have hit the streets in East Goscote, Leicestershire and put out literature, giving reasons why the UK should vote to leave the European Union.
 East Goscote is an interesting village, as it was represented by a British National Party borough councillor for eight years – 2007 to 2015. It is also widely understood it the village has never elected a Labour or Liberal Democrat councillor at either borough or county council level.
The leaflet encompassed key dangers of EU membership including: uncontrolled immigration, financial incompetence and lack of democracy and sovereignty. Clearly, there are many reasons for the UK to exit the EU, but campaign information has to be given in stages for the public to take it in.
In light of the current migrant crisis one point from the leaflet is particularly relevant. 'The EU has moved inexorably towards a common immigration and asylum policy'.  As we have witnessed Germany's offer to accept over 500,000 migrants from the Middle East will have an impact on all EU member states. 
 If anyone is interested in putting out leaflets giving reasons for the UK to become independent, please contact the Party on the following email:
 enquiries@britishdemocraticparty.org